Roy & Zelpha (Wright) Grant Family
Submitted by Sheryl Cipolla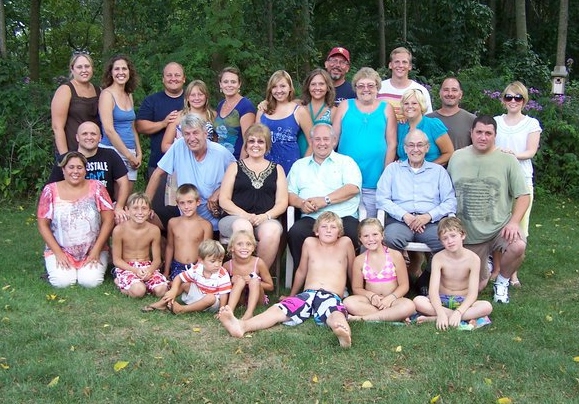 This is most of the clan of Roy and Zelpha (Wright) Grant. Roy Grant was a coal miner in Black Star from around 1926 (age 13) through 1942 when they moved to Toledo, Ohio. Roy was the eldest son of Archie Sr. and Flossie (Terrell) Grant. Zelpha was the only child of Willie and Eliza (Shoupe) Wright. All lived in Black Star. This picture was taken in 2010 celebrating the 50th wedding anniversary of Rondal Grant (born in Black Star in 1940) and Barbara Grant. This picture includes Roy and Zelpha's Children and most of their Grandchildren and Great Grandchildren. They were both very much loved and their grandchildren joke that they were the favorite. Right Side: Seated right, Roy Damon Grant (Eldest Son) with his family, including his daughter Karen Grant McVicker, and his grandson Sean McVicker, absent are his grandson Aiden McVicker, his son Brian Grant, his grandson Phillip Grant and his daugther Pam Grant (d); Middle: Seated middle, Rondal Lee Grant (Middle Son) with his family, including his wife Barbara Grant, his daughter Sheryl Grant Cipolla, son-in-law Lonn Cipolla, grandchildren Connor and Laurel Cipolla, son Greg Grant, daughter-in-law Brenda Grant, and granddaughter Sydney Grant, daughter Stacy Grant Harper, son-in-law David Harper and grandchildren Grant and Paige Harper; Left Side: Seated left, Debra Grant Royalty (Youngest Daughter) with her family, including her husband Gary Royalty, daughter Tammy Szymanski Merrick, son-in-law Jason Merrick, and grandchildren Zach, Chandler, Bailie and Kaleb, daughter Kimberly Szymanski Swann and absent son-in-law Paul Swann, and daughter Lisa Szymanski.
My name is Sheryl (Grant) Cipolla. I am the granddaughter of Roy Grant and Zelpha Grant (maiden name Wright). My grandpa was born in 1913 and was a miner in Black Star from around 1926, when he was 13, until 1942 when they moved to Toledo, Ohio. My grandpa died from black lung in 1976 at age 63. My grandma died in 2006 at age 88.
I remember visiting Black Star several times as a child and visiting many relatives. My Great Great Grandparents were Isaac and Ava Shoupe. My Great Grandparents were Archie Grant Sr. and Flossie (Terrell) Grant (Roy's parents), and Willie Wright and Eliza (Shoupe) Wright (Zelpha's parents).


I really appreciate the information and pictures on the site, especially since our last visit to Black Star about ten years ago lead us to the gate of a mining company. This is when we first learned the town was gone. It was really great to see the recent pictures of Flem Shoupe and family that included pictures of Isaac and Ava and several of my Great Uncles, Aunts, etc.


Many of my grandma's pictures from Black Star days were damaged when they were in storage. My Dad, Mom and my family all live in California now, but we'll try to get my Uncle Roy Damon Grant and Aunt Debbie, who are still in Toledo, to find some old pictures we can post. Note, my great Aunt Fannie Lee Grant (Buckner) is doing well and living with her daughter in Georgia. Ron Grant, Roy Damon Grant, and Fannie Lee Grant (Buckner), are the only ones from Black Star that I know that are still living.