Bruce Rutherford Insull Elementary School
Insull, Ky

Click on photo for larger image
---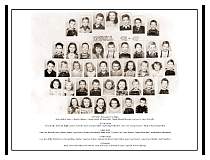 Insull Elementary School
Insull, Harlan County, Kentucky
1948-1949

Most classes at Insull were combined grades. This is the First, Second, and possibly Third and Fourth. Top row (l-r) : Butch Ayers, Randy Oplinger, George Saylor, Mrs. Parks Partin, Claude Edward Bloomer, Hiriamin Lee, Junior Hall. Second row (l-r): Jerry Brooks, Della Gill, Ralph Lawson, Sue Ellis, James Coy Monhollen, Doyle Wayne Bloomer, Lewis Lee, George "Goober" Rutherford, Homer Monhollen. Third row (l=r): Gabe Lee, Richard Estes, Calleene Sexton, Sylvia Davis, William Miracle, Ruby North, Christine Cox, Curtis Hoskins, Donna Davenport, Jerald Wesley Rutherford. Fourth row (l-r): Cora Jean Miller, Bobbie Estes, Donald Bruce Slusher, Newman Hoskins, Barbara Hamilton, Prudy Hoskins, Jerald Lee Houston, James David Rutherford, David Hamilton. Fifth row (l-r): Betty Janice Duff, Patricia Ann Martin, Carol Ann Jones, Lola North, Freddie Cracroff, and Ronnie Oplinger.
---