Black Star Coal Mining Camp
Alva, Kentucky

Old Doctors Office burns @ Black Star. Coal Miners who worked for Black Star Coal Corp. and their families visited this Office for many years.
(12-11-13) From the Harlan Daily Enterprise: Firefighters were battling a raging blaze at the main office of R&B Coal Company at Black Star late Wednesday. Volunteers from the Wallins Fire Department were dispatched around 4 p.m. Additional information on the fire was not available at press time. However, the structure burning was the old Black Star doctor's office. Photo courtesy of Margie Cervantes
Click here for the Black Star Class of 1960 Fiftieth Reunion Video by Tim Cornett 10-6-10
(You will be redirected to You Tube to view the Video)
New Photo Links will be Highlighted in RED from now on
This website is dedicated to the miners and their families who worked at the Black Star mines in Harlan County, Kentucky. We have some photos we hope you will find of interest. After you click on a link...Click on any of the small photos to see a larger one in a new window. If you have photos or stories to contribute to this page, please contact Ancil Hall P.O. Box 127, Barbourville, Ky. 40906. If you live in SE Kentucky, contact Ancil Hall at the Knox County Attorney's Office in Barbourville, Ky. or email at ancilhall@aol.com or Trent Hall, email address is trent40906@yahoo.com
---
1938 New York Times Magazine
Behind the Conflict in "Bloody Harlan"
Click on photo for complete article

---
Black Star Roadean Yearbooks


The 1938 Yearbook will open in a PDF file on your computer.
---

Black Star Mountain Eagle Newsletters
| | |
| --- | --- |
| Black Star Mountain Eagle Newsletters | Black Star Mountain Eagle Newsletters Added 6-15-13 |
| | |
---
Guestbook unavailable. We are trying to find a Guestbook that will work properly.
If you would like to view the Guest messages for 2005 thru March of 2012, please
click here.
"Click here" for some Photos we started out with
Alva Memorial Gardens, Alva, Ky.
The complete Black Star School - Sept 1934 photo is large and takes awhile to load up. But, it is worth the wait. Click Below.
Black Star School - Photo of all Classes in 1934 - Click Here
Black Star Commissary on Pay Day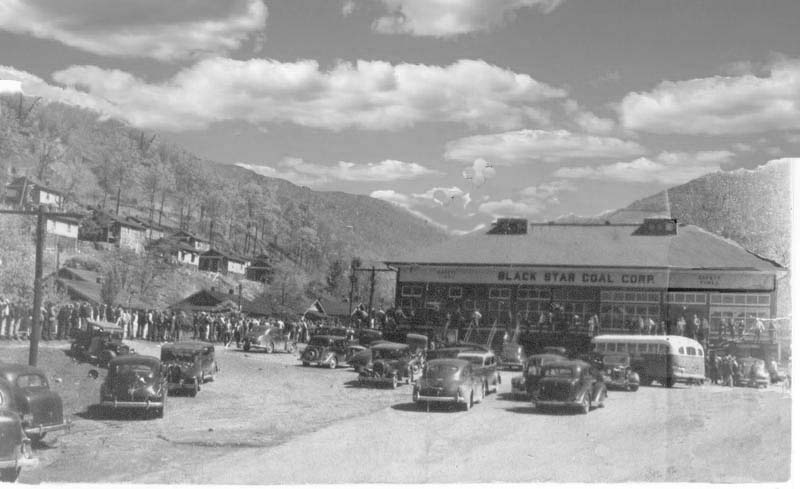 Photo courtesy of Rosie (Williams) Hall 1915-2001
Pay Day at Black Star. Notice the line on the left side goes all the way down the railroad tracks. This mine operated as Black Star Coal Company Inc. from 1923-1928 and employed 400 miners. From 1939 to 1958 it was known as the Black Star Coal Corporation and employed 900 miners.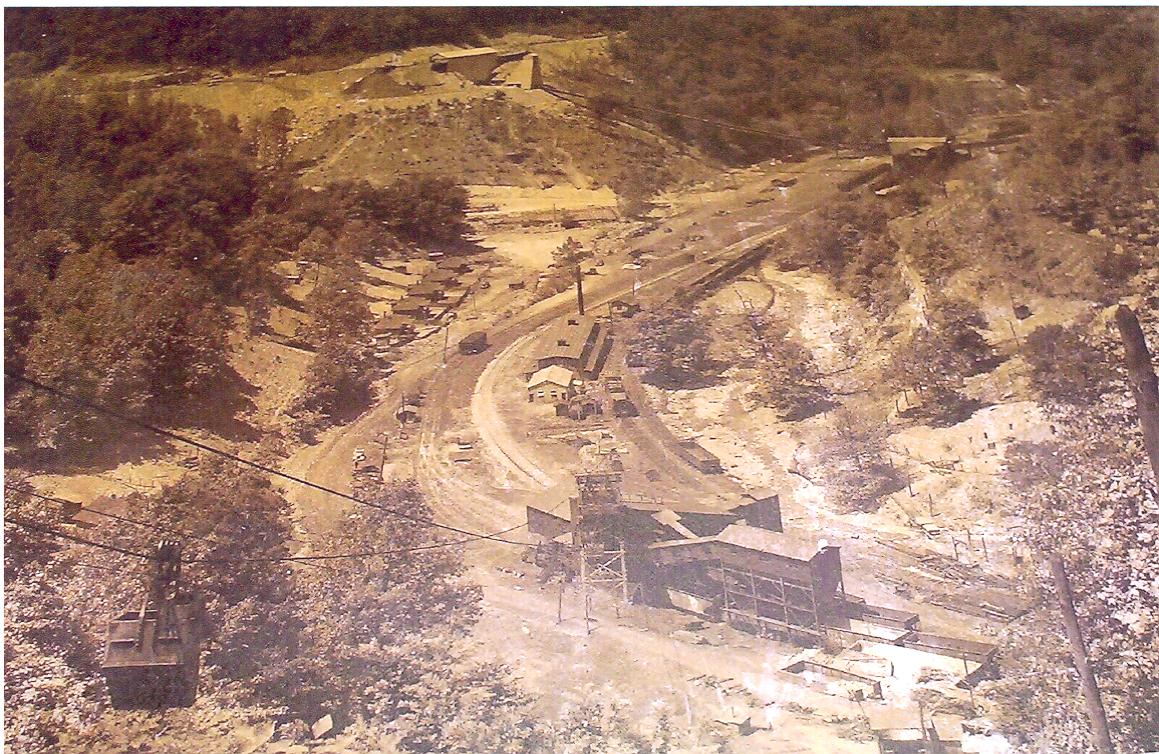 This area was considered to be the "hub" of the Black Star Coal Mining Camp.
The Kelioka Tipple, Bathhouse, Lighthouse, Black Star #4 Mine & Conveyor, & Main Tipple. (Note houses on Bathhouse road). This photo hung in the Commissary and other locations throughout the Mining Camp. This photo courtesy of Clayton Taylor.
---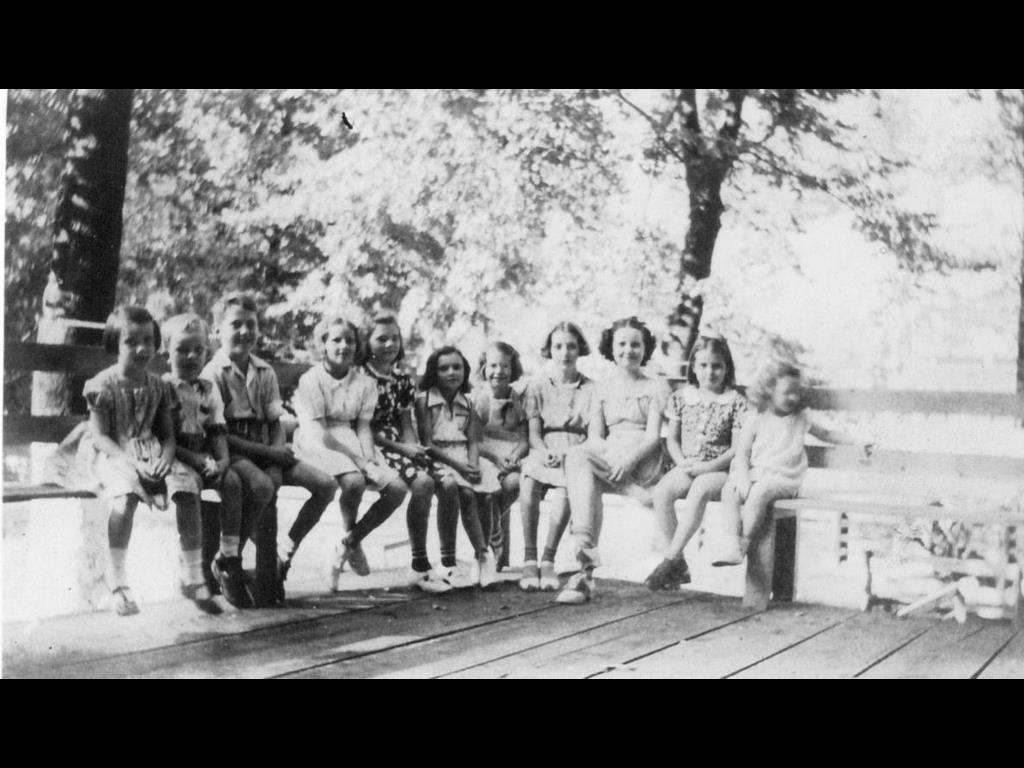 Mary Elizabeth Martin Birthday party @ the Restaurant at Black Star - 1939
L to R: Sue Ann Hodges, Stewart "Bud" Hodges, George "Topsy" Lee, Unknown, Unknown, Mary Elizabeth Martin, Unknown, Unknown, Unknown, Joann Snograss, Virginia Snodgrass
Photo submitted by: Mary Elizabeth Martin Howard
Black Star Troop 17 Boy Scout Photo below from John Julian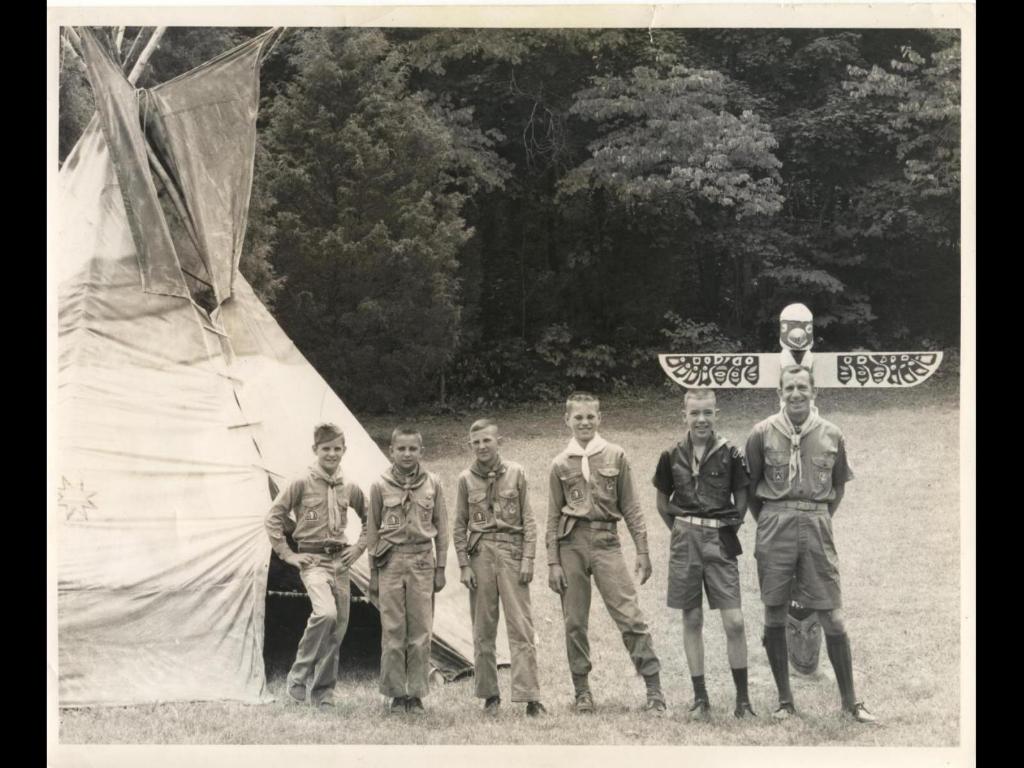 Black Star Boy Scout Troop 17 - Scout Jamboree, Boy Scout Camp, Camp Sequoia, Cherokee Lake, Tennessee, Late 1950's
Scouts - Left to Right
Paul (Brother) Stewart, Johnny Davenport, Gary Johnson, John Julian, Herbert (Skipper) Thompson
Scout Master: George Gross
---
Our Black Star friends have donated their personal photos of Black Star and the surrounding areas.
It was brought to our attention that the Black Star Reunion Photos for 2003, 2004, & 2005 was photographed by Vencil Engle. We wish to thank Vencil for his contributions.
Bud & Selma Hodges Photos
Selma (Sutton) Hodges & Stuart Hodges - Black Star Photos
Bud & Selma Hodges - Black Star Photos
Doc Hodges
Bud & Selma Hodges - 9-12-05
Bud & Selma Hodges, Dec. 2005
Bud & Selma Hodges - March 2006
Clayton & Pauline Taylor Photos
Clayton and Pauline Tipton Taylor - Black Star Photos
Pauline Tipton Taylor - Black Star Picks & Pictures Booklet
Clayton Taylor - Black Star Sports Photos
Clayton Taylor - New Black Star Photos - May 2005
The Roadean - 1938 Black Star Year Book
Bobby Taylor Photos
Bobby Taylor & Mary Taylor - Black Star Photos
Bobby Taylor, New Photos, May 2005
Bobby Taylor Photos 8-8-08
Nancy Hooker Powell Photos
Nancy Hooker Powell Photos
Nancy Louise Hooker Powell - New Black Star Photos 6-18-05
Nancy Hooker Powell - New Photos 6-19-05
Hooker Falls
Nancy Hooker Powell - Black Star Photos 7-6-05
Nancy Hooker Powell - Black Star Photos 7-16-05
Nancy Hooker Powell - 7-26-06
Nancy Hooker Powell - My Connection to the World
Nancy Hooker Powell - 2005 Pigeon Forge, BS Reunion
Nancy Hooker Powell and Markley Hooker Byrd Photos
Childhood Reunion Photos - taken July 2006
Nancy Hooker Powell photos - added 3-26-07
Nancy Hooker Powell - Photos added May, 2007
Nancy Hooker Powell - Junior Class Play 1958
Nancy Hooker Powell - Family Photo

Bud & Vina Lee Bunch Photos
Bud & Vina Lee Bunch - Black Star Photos
Vina Lee Bunch - Senior Memories
Robert & Barbara Johnson Arnett Photos
Barbara J. Arnett - Black Star Photos - 9-9-05
Barbara J. Arnett - Black Star Photos - Nov. 2005

Jo Ann Walters Graden Photos
Jo Ann Walters Graden - Black Star Photos
UMWA Convention, Cinn.,Ohio, 1948
UMWA Convention, Cinn.,Ohio 1952
Jo Ann Walters Graden, New Photos, May -2005
Jo Ann Walters Graden, Photos, Dec. 2005

Judy Lidster Kehyari Photos
Judy (Lidster) Kehyari - Black Star Photos

Tim Cornett Photos
Tim Cornett - Black Star Photos

Orbin Howard Photos
Orbin Howard Photos
Orbin Howard Photos 11-25-07
Orbin Howard Photos 12-26-07

Jerry & Kathleen Kindred Photos
Jerry & Kathleen Kindred Photos
Jerry & Kathleen Kindred Photos, Sept. 06

Charlie Keyes Photos
Black Star Hornets - Baseball Team - 1934 - Charlie Keyes
1932 Black Star Football Team

Vivian Gold McCormack Photos
Vivian Gold McCormack - Black Star Photos
Vivian Gold McCormack 1-1-06
Vivian McCormack - Class of 1958 Photo added June 2009

Daisy Warfield Tipton Photos
Daisy Warfield Tipton - Black Star Photos

Bobby Warfield & Wanda Warfield DeVauct Photos
Bobby Warfield & Wanda Warfield DeVauct - Black Star Photos

Clayton Hall Photos
Clayton Hall - Black Star Photos
Clayton and June Hall Photos - 10-08
June Hall Photos - 1-29-09
June Hall Photos - 2-09
June Hall Photos - 3-09

Daisy Warfield Tipton & Sharon Tipton Steele Photos
Daisy Warfield Tipton & Sharon Tipton Steele Photos

Black Star Reunion Photos
Black Star Reunion 1986
Black Star Reunion 1987
Black Star Reunion 1991
Black Star Reunion 1992
Black Star Reunion 1994
Black Star Reunion 2003 - submitted by Clarence Campbell
Black Star Reunion 2004 - submitted by Bobby & Phyllis Burnette
Black Star Reunion 2005 - submitted by Bobby & Phyllis Burnette
Black Star Reunion @ Black Star School - Early 1980's - Submitted by Eugene Crawford of Wallins Creek, KY added 10-6-07
Black Star Reunion 1990 @ Cumberland Gap - Submitted by Eugene Crawford - Added to site 6-8-08
Black Star Reunion 2010
Black Star Reunion Photos 2012


Class Reunion Photos
Black Star Class of 1960 Photos
Black Star Class of 1958 Reunion in Gatlinburg 1992
Black Star Class of 1958 Reunion in Gatlinburg 1993
BS Class of 1960, 1991, @ Pine Mtn Park
BS Class of 1960, Reunion in 1993, Campbell House, Lex. Ky.
Black Star Class of 1960, Reunion in 1995 @ Alva, Ky.
Black Star Class of 1960 Reunion (2007) in Gatlinburg
Black Star Class of 1958 - Reunion 2008
Black Star Class of 1957 - 50th Reunion in 2007 - from Watha Roark (added 2-28-09)
Black Star Class of 1960 - 2009 Reunion (added 12-20-09)
Class of 1960 - 50th Year Reunion
Lloyd Vanover Photos
Lloyd Vanover - Black Star High School Booklet
Barbara Elliott Yeager Photos
Barbara Elliott Yeager - Black Star Photos
Barbara Yeager - 1938 Photo
Barbara Elliott Yeager - Black Star Photo - Sept 06

Paul D. Barton Photos
Paul D. Barton, Melbourne, FL - Black Star Photos

Watha Noe Roark & Naomi Roark Craig Photos
Class Reunion @ Cumberland Gap 1974 - Class of 1957
Black Star Students - Class Pictures - Class of 1957
BS Reunion @ School House Inn in 1997 - Class of 57

Joe & Alice Faye Hill Photos
Joe & Alice Faye Hill - Black Star Photos

Jerry Ray Barton Photos
Jerry Ray Barton - Black Star Photos
Jerry Ray Barton - More Photos - March 2006

John Gold Photos
John Gold - Black Star Photos

Mardell Gold Photos
Mardell Gold - Black Star Photos

Markley Hooker Photos
Markley Hooker - Black Star Photos
Markley Hooker Byrd - Photos added 3-30-07
Markley Hooker Byrd Photos 6-6-07
Markley Hooker Byrd - B Team Cheerleaders - 1960 (added 10-16-07)
Childhood Reunion Photos - August 2007

Dennis Helton Photos
Dennis Helton - Black Star Photos

Pamela Sue Burnette Caskey Photos
Pam Burnette's Black Star Photos

Curt & Pat Barton Photos
Curt & Pat Barton Photos - Sept 2006

Stella Hackler Photos
Stella Hackler Photos
Stella Hackler Photos 4-2-11

Melvin Clay Burnett Photos
Melvin Clay Burnett Photos

Mayme Jo Williams Denny Photos
Mayme Jo Williams Photos

Ann Ellison Howard Photos
Ann Ellison Howard Photos

Patty Gail Sutton Photos
Patty Gail Sutton Photos 11-30-09

Joyce Maddle Toler Photo
Joyce Maddler Toler - Senior Trip - 1960

Bobby Greene Photos_Added 10-6-07
Bobby Greene - Black Star Photos
Doug and Mary Lib Howard Photos_Added 10-6-07
Doug and Mary Lib Howard Photos
Judy Barton Photos
Judy Barton - Black Star Photos - Added 10-15-07
Judy Barton - Black Star Photos - Added 5-30-09
Melva Lane & Betty Lane Photos-Added 10-15-07
Melva Lane & Betty Lane - Black Star Photos
Betty Lane - 1957 Black Star Coronation Photo Added 10-19-07
1957 BlackStar Coronation Photo
Dianne Carter Harrell Photos - Added 10-19-07
Dianne Carter Harrell Photos
Lana Manning - Black Star Photos 11-3-07
Lana Manning Photos 11-3-07
Lana Manning Photos 11-25-07
Lana Manning Photos 8-8-08
Lana Manning Photos 10-08
Lana Manning Family Photos 1-20-2010
Lita Helen (Warfield) Miles Bowles - Black Star Photos
Lita Helen Bowles-Added 11-30-07
Gene Crawford - Black Star Photos
Gene Crawford Photos 12-26-07
Gene Crawford Photo 2-8-08
Gene Crawford Photos 6-28-08
Joni Lidster Russell Photos
Joni Lidster Russell 2-1-08
Joni Lidster Russell 8-8-08
Brenda Sue, Wanda Louise & Gale A. Robbins
Brenda Sue, Wanda Louise & Gale A. Robbins Photos
Dorothy Taylor Aston - Black Star Photos
Dorothy Taylor Photos
Dorothy Taylor Aston Photos 6-29-08
Dorothy Taylor Aston Photos 9-28-08
Mike Elliott
Mike Elliott Photos
Libbie Cornett - Class of 1946 - Black Star Photos 10-08
Libbie Cornett Photos
Donna Sue Taylor
Donna Sue Taylor Photos 1-29-09
Clinton Cornelius
Clinton Cornelius Photos 3-09
Jimmy & Josie Hoskins Lane
Jimmy & Josie Hoskins Lane 12-6-09
Randy Oplinger
Randy Oplinger Photos 12-6-09

David Thompson
David Thompson Colorized Photos 1-31-10
Janet Cornelius
Black Star Class of 1957 School Photos and 2007 Class Reunion Pine Mountain State Park Photos

Dewey Clifford Roark
Black Star Class of 1957 Photos
Judy Cornelius
Raymond Cornelius (1950's) Photo
Harold Rice
Harold Rice Photos 12-15-10
Harold Rice Photos 2-26-11
Harold Rice Photos 5-15-11
Harold Rice - Black Star High School Friends Photos
Harold Rice - Black Star Boy Scout Items
Harold Rice - Black Star High School Photo
Harold Rice Photos 12-9-12
Harold Rice Photos 11-12-13
Jessica Hodges
Jessica Hodges Photos 1-31-11
Norma Sue Hubbard
Norma Sue Hubbard Photos 4-2-11
Doyle Wayne Bloomer
Doyle Wayne Bloomer Photos 4-2-11
John Julian
John Julian Photos 5-15-11
John Julian 11-12-12
Marty Martin
Marty Martin Photos 7-24-11
Sylvia Mae Burnette
Sylvia Mae Burnette Black Star Photos
Sylvia Mae Burnette - 1928 Black Star Flood Photos
Linda Cupp
Linda Cupp - Black Star Photo 6-10-12
Flem R. Shoupe
Flem R. Shoupe Photos 2-2-13
Flem R. Shoupe Photos 7-27-13
Flem R. Shoupe Photos 8-1-13
Flem R. Shoupe Photos 11-12-13-set 1
Flem R. Shoupe Photos 11-12-13-set 2
Flem R. Shoupe Photos 11-12-13-set 3
Flem R. Shoupe Photos 11-12-13-set 4

Roy & Zelpha (Wright) Grant Family Photo - Submitted by Sheryl Cipolla
Roy Grant Family Photo
Bruce Rutherford
Bruce Rutherford Photos 7-11-13
Bruce Rutherford Insull Elementary Photo 8-1-13
Bruce Rutherford Photos 9-21-13
Wanda Gold
Wanda Gold Photos 11-12-13
Jo Ann Cornelius
Jo Ann Cornelius School Photos
Kelly Carrico Photos 8-31-14
Henry and Ida Garrett
Debbie Doyle Photos of Shupe Family
Debbie Doyle





Misc Articles
A Look into the Past: Life of One Early 20th Century Coal Mining Camp (Black Star)
The Black Star We All Remember by Billy Joe Terrell
Black Star - The Early Years 1921-1923
Black Star - The Way It Was/The Way It Is by Betty Taylor
Memories of Early Black Star by Sylvia Warfield
Robert Arnett's "One Man's Experience" Article
School on Top of the Hill
Mourning Mist
The Last Chapter
Black Star - A Coal Town in Harlan County - Now only a Memory
Growing Up at Black Star : Nancy Hooker Powell
Doaley Mays - Distinguished Service Cross
The Community of Pathfork, Kentucky
Chestnut Connections by Paul Nunn
Paul Carmony honored by President Bush
Fun On The Black Star Sludge Ponds by Jerry Lane

Coal Camp links of interest - check these out
---